Hello lab mates!
Welcome to 2018! Ahhh *deep inhale* a new year.
I love new years. I love fresh starts. I love goals and plans. (If you want some solid tips on how to set marriage goals this year- read this.)
Speaking of plans for the year, let's talk about what's in store for Marriage Laboratory in 2018 (spoiler alert- it's gonna be good!).
I loved having a yearly plan all laid out last year. I based the whole year off of Gary Chapman's The 5 Love Languages and dedicated one month to each love language with corresponding love experiments and posts.
I wanted to do something similar this year.
I am hereby decreeing this year, 2018, THE YEAR OF THE SELF.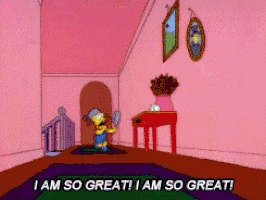 I am loosely basing my five themed months on ideas from Dr. David Schnarch's Secrets of a Passionate Marriage.
Before you get too excited, yes this is a sex book, but I'm going to be focusing on his ideas on the self and differentiation (I explain differentiation here). Self-improvement? What could be more exciting!? 😉
Here is the plan for the monthly themes:
April:  Clear sense of who you are and what you want
June:  Self-confronting with love
August: Controlling your reactivity and self-soothing
October: Tolerating discomfort for growth
December: Forging integrity
There will also be corresponding "love experiments" for each theme.
Perhaps you've noticed that I'm not starting until April. Very astute of you. This is because I am having a baby in February and am giving myself a two-month maternity leave (self-care starts already in the year of the self!).
I'll be doing a few more intro posts in January as well as another 14 days of love letters series leading up to February. In February and March, I'll be re-posting (with updates) former posts that deserve some more attention.
This blog has been around for three and a half years (!) and there are so many excellent posts sadly living below their potential, wallowing in the abyss of forgotten blog-dom.
No more. I'm bringing them to the forefront.
But back to the year of the self. Perhaps you are asking yourself why I would spend an entire year focusing on self-improvement instead of my typical marriage tips.
So glad you asked!
Dr. Scharch points out, and I totally agree, that working on common marriage issues- communication, sex, parenting, finances, etc- will only take you so far if you are unwilling to really dig deep and improve yourself. For a marriage to be able to truly thrive to the next level, both parties must develop some self-maturation skills such as self-confrontation, self-soothing, not needing validation, tolerating anxiety, etc.
And guys, I'll be honest, self-improvement is WAY more my thing than relationship-improvement. I LOVE self-help books and I'm SO excited to share some of the truly life-changing tactics I've picked up the past few years from some experts. I'm thrilled to really be able to bring some of my passions to the blog in hopefully a really helpful way.
So here's to the new year! It's going to be great!