"It is not joy that makes us grateful. It is gratitude that makes us joyful." – David Steindl-Rast
I fully believe that quote. We often think that we have to WAIT to be grateful until life is good, but it's actually gratitude that makes life good.
Time and time again researchers have found that people who report consistent happiness and life satisfaction are the most grateful.
I really think its the same in marriage. I think the happiest marriages are the most grateful.  One study asked married couples to keep a daily gratitude journal for each other and at the end of a few weeks, each couple expressed feeling increased support, intimacy and marital satisfaction.
It is service month on the blog, and sincere gratitude is one of the best ways to serve your spouse.
While I know and believe this, I've often struggled with HOW exactly to feel grateful, particularly when I'm bugged or stressed or sleepy or overwhelmed or sad or angry or hungry.
So, all the time.
Do I mentally count my blessings? Do I say thank you more? Does being grateful mean I have to be happy and cheery? Ignore what is bothering me? What if I don't feel like it? Can I still be in a bad mood AND be grateful? How do I accomplish this elusive attitude of gratitude with it's mystical joyous powers?
Brene Brown (my research hero and personal hero) has reported that in her research of over 1000 people, she has found that wholehearted people, joyful people, and grateful people go beyond mere mindsets of gratitude to actual gratitude PRACTICES. Regular, tangible gratitude rituals.  She says,
"In 12 years of research, in all that time, I have never interviewed a person who describes themselves as joyful who did not actively practice gratitude. . . . Practicing gratitude invites joy into our lives and when I say practice I don't mean merely an attitude of gratitude or feeling grateful, I mean practicing gratitude. These folks shared in common a TANGIBLE gratitude practice."  -Brene Brown
Oh Brene, how wise you are.
With that in mind, we need ourselves some tangible gratitude practices!  Here are 3 ideas:
Gratitude Practices for Marriage:
1 Marriage Gratitude Journal
This is something I started when we first got married as a present to Rich. For a year, everyday I would write a reason I was grateful for him, then on our anniversary I put each statement on its own little strip of paper, folded all of them up and put them in a box.
He LOVED it. So I do it every year now. Takes the surprise out of what he gets for his present each anniversary, but giving him this present and reading through it with him has made for some of the sweetest moments of our marriage.
Now to simplify my life, I no longer write each sentence on little strips of paper, but rather I buy one of those little planners from the Target $1 section and write my daily appreciation in that. It takes about one minute each day before I go to bed and has not only provided the best anniversary present ever, but does a lot for my own heart to stop and remember why specifically I'm grateful for Rich each day.
2 A Shared Thank You Notebook
A few weeks ago I heard Tammy Greene, a fellow marriage blogger who blogs at Married and Naked present about how her marriage has gone from near-divorce to thriving.
One of her most powerful tools she mentioned was the power of daily gratitude. To facilitate this, she got a notebook that she kept in their bathroom and both her and her husband committed to writing a thank you note to each other each day in the notebook.
This was several years ago, but they've kept the habit up.
As she gets ready for bed each night, she writes a little thank you note and in the morning, she reads what her husband wrote about her.
What a great idea! You don't have to talk about it, you don't have to carve out hardly any time and you get that little boost of love both given and received every single day. I love it.
I think with a daily gratitude practice, you could just as easily write a post-it note or do a daily text or email, but that can be hard to remember. I love the idea of a physical journal that always stays in the same  place, acting as a physical reminder to appreciate your spouse each day.
Tammy has since created a handy journal in which to accomplish this called The Ultimate Marriage Journal. It is only $15 and you can buy that here. On each page it says, "Thank you for . . ." with enough of these prompts to last for one year.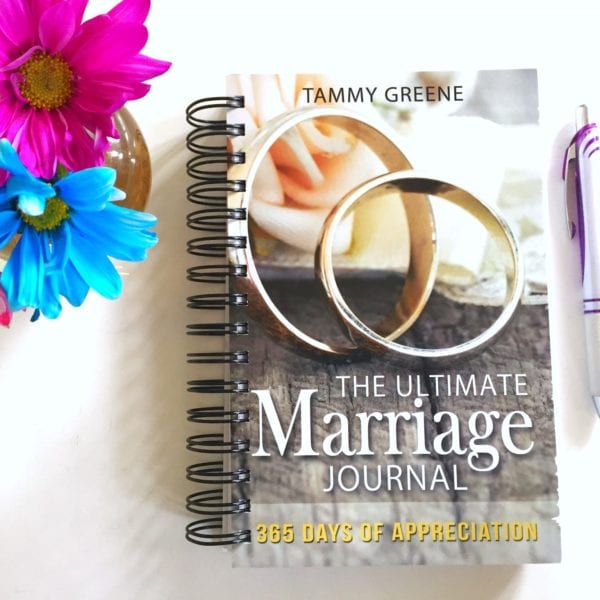 3 Weekly Appreciation Session
Each week, Rich and I hold a weekly marriage check in and to kick things off we always start with a compliment and appreciation session.
I've written so often about our weekly check in and many people have emailed me and said that it just doesn't work for them. One or both partners dread the time to bring up hard stuff each week (the step after the appreciation step).
I've thought a lot about this, and I think this may be because the appreciation step is either neglected or passed through without much thought. When really, the gratitude and appreciation part of the weekly check in is probably the most important part.
Many weeks go by when we don't talk about anything hard or ask each other for any favors, but we still get to pause, think through our weeks and sincerely express gratitude and appreciation for each other.
Often Rich will say similar things week to week- thanks for all you do for the kids, thanks for making dinner, thanks for cleaning, etc. Even though I may be expecting it, him saying it ALWAYS makes me feel noticed and appreciated. It's how I get through the sometimes drudging monotonous tasks of being a stay-at-home mom. Feeling that your work for your family is noticed and appreciated makes the work SO much easier.
Those are just three ideas. There are countless other things you can do with some research or creativity.
What do you guys do to stay grateful?