19 of our most successful DIY anniversary gifts. Your guide to free, sappy and creative gift giving (also good for birthdays and Christmas).
I've been doing some research for this post.
I've been searching for some top-notch anniversary gifts guides.
Guys, the internet is letting us down in this realm big time. Every search result for "anniversary gifts" or "birthday gifts for spouse" or something along those lines keep coming back with a list of PRODUCTS.
And who likes products?
Ok, we all love products. The problem with these gift guides is that those writers don't know your spouse, so how would they know what product would be meaningful to them?
The best gifts are the ones that mean something special to your spouse specifically. (Also the reason bloggers LOVE to do gift guides is because they get paid if you click and buy one of their featured gifts. Nothing wrong with that, just maybe explains why 90% of online gift guides consist of nothing but products).
So, I'm planning to help the internet out a little today and list some FREE gifts that would be special and personal to your spouse.
Because meaningful, thoughtful, personal gifts really are the best kind.
And while I titled this post "DIY anniversary gifts," any and all of these ideas could be used equally well for birthdays, Valentine's Day, Christmas, Mothers/Fathers Day or any other gift-giving opportunity.
A little disclaimer- I really don't mean for this list to sound overwhelming or braggy- these are the highlights from nine years of gift giving and we started with the sappy gift bar pretty darn high. Remember, I am not a better wife than you. Like, Rich and I still fight and stuff . . . Ok, onto the DIY anniversary gifts.
DIY ANNIVERSARY GIFTS:
1. Write a gratitude journal for your spouse.
Starting out with my favorite and the most meaningful because it takes quite a bit of time to complete. This has been my gift for Rich every anniversary of our marriage thus far. I've been a long time gratitude journal-er (thanks to Oprah's suggestion while I was in college). Everyday (or just about) I write five things I'm thankful for.
For our first anniversary, I flipped through and found every single thing I wrote about Rich in that journal that year and wrote out each entry onto separate little strips of paper. Then I put them inside a little box from Hobby Lobby which I painted and modge-podged a picture of us onto (I'm not usually so crafty).
I will never forget giving it to him the first time. He got to read a whole year's worth of specific reasons I'm grateful for him. To say he loved it would have been an understatement. His love language is words of affirmation.
In fact, he loved it so much, I've just continued on the tradition, complete with the same box. And even though he expects it and knows what he's getting each year, he still gets emotional every time. It totally fills BOTH of our love tanks.
If you want to take this on and you are short on time- you can just write as many reasons as you can think of why you are grateful for your spouse and put them all on separate sheets of paper.
Or if little scraps of paper isn't your thing, you could do a PowerPoint (I did that twice). Or just write them in a little notebook just for them, which is what I've done in recent years.
This idea could also work for fun memories you've shared together.
2. Get their friends and family members to write fun memories with them.
For Rich's 30th birthday, I set out to ask 30 of his friends and family members to write down their best memories with him and a few reasons why they like him. Only I didn't get many responses back as soon as I wanted, so I asked more and ended up with 52. 🙂
I put each letter in separate envelopes. Then, I let him open a bunch every hour on his birthday. He LOVED this one.
Two years later for another birthday present, I copied all the letters and made a book out of them on Blurb and included a picture of each contributor next to their letter. Its still fun to flip through.
3. Make them a confidence book.
This has probably been my favorite present from Rich. Its a similar idea to the one above, but with a slightly different twist. A few years ago, I took on three big projects all at once that each took me far outside my comfort zone (starting this blog was one) and I started to feel really inadequate and overwhelmed a lot.
So for my birthday, Rich asked a few of my closest friends and family members to write me encouraging notes, telling me exactly why I could accomplish hard things. Then he made them into a book with their picture by their letter.
Oh my gosh you guys, this book is still the most encouraging thing I own. Every time I read it I feel like I can conquer the world. Seeing that many people believe in me gave me a HUGE burst of confidence. And continues to.
I HIGHLY recommend this gift if your spouse is going through a stressful time.
4. Scavenger hunt.
This is one of Rich's favorite gifts to give. Many a birthday or anniversary morn, I would wake up to a clever poem on the table taking me around the house where Rich had left a little present at each stop. Nothing too crazy- usually just three to four places with something like my favorite candy or a new CD in each place. I love it each time.
Also Rich is very skilled at clever poems and riddles.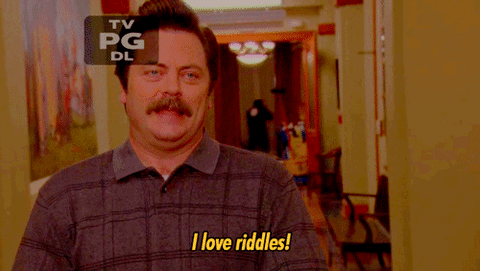 5. LOVE LETTERS!
If you've read this blog with any regularity, you know we LOVE love letters. When Rich was in Brazil for two months the first time, he tried to send me a love letter every day (42 of those prompts you can read here).
Those two months were seriously some of the strongest of our entire marriage even though we were apart!
The past two Valentine's Days I've done 14 love letters with a love letter each day for him leading up to Valentine's Day (and the first year, he surprised me by filling out the same prompts for me 🙂 ). You can find those prompts here and here.
And I even have a handy little printable for you in each of those links so you can print out the printable, fill in the prompts and give them to your spouse as an EXCELLENT gift.
6. Surprise party.
We've each done this for each other. I mean can you go wrong with secretly inviting all your spouse's friends together to celebrate them? I say you cannot.
Although, if you are married to an introvert who hates parties, maybe avoid this one. Or make it a surprise party with a very select group of people.
7. Book a cabin or plan a camping trip for the night and surprise them.
Rich did this for me while my parents were in town so they could watch our kids for the night, and it is one of our very favorite memories together ever. Such a great present.
I loved it so much, I did the exact same thing for his birthday the next year (only we brought the kids that time, and it was one of our favorite family vacations).
I realize this one is not quite free, but state parks typically have cabins for around $50 and camping is even cheaper! For a free version, set up a tent in your backyard!
8. Twinkle fort.
I've done a few varieties of this through the years. It generally involves stringing some stringed lights (I used our Christmas lights) back and forth above your bed (I used a very sophisticated method involving tacks and duct tape) and then draping sheets over the lights to frame your bed. Its not too labor intensive, but adds such a great fun and romantic vibe to your room!
9. Surprise fancy dinner.
This started as a Valentine's Day surprise and is now an annual tradition. While Rich is at work, I set up a card table in the living room, get a nice table cloth, candles, make a fancy dinner, a sparkly drink and get dressed in my fanciest fancy pants.
My kids are in on this act too (and love it). When Rich walks in, we are ready with candles and nice romantic music playing. Depending on how fancy you want your dinner to be, its not too much extra work, but is really fun.
10. Write out a collection of sex prompts.
I did this one Valentine's day and put them all in a box. An "x" box is what we call our "sex" box because . . . well its a clever name and should we ever need to discuss it in public, no one would know what we were talking about (we have never had this need . . .).
Anyway, our sex box is another box I got at Hobby Lobby and painted and cut up strips of paper to put inside. On each strip of paper is a little foreplay activity to get us goin. Some are just fun, some are sappy and some are well . . . what you would expect. If you are interested in getting these prompts, I do email them out upon request, just fill out the form requesting them in this post.
11. Mark up scriptures and annotate it just for them.
Rich and I are Mormon and one year for Christmas, Rich had marked up, highlighted and written notes in the margins of a Book of Mormon just for me. It took him a long time and I LOVE this gift. I loved reading through it each morning and feeling closer to him and to God.
I loved picturing him reading and writing in the book and thinking of me while he read. One of my favorite gifts he's ever given to me.
EDIT: Rich wanted me to add that he never actually finished this gift. Lest you think he's more awesome than he actually is. 🙂 (still pretty awesome)
12. Top 10 lists.
For the first five or so years of our marriage, this was another Valentine's Day tradition. It started while we were dating actually. My roomate and I thought it would be funny to make super girly, frilly HUGE homemade cards for our then boyfriends. We used lots of glitter and doileys and hearts. In mine I wrote "The Top 10 Reasons Richard Davis is a Stud" and completed each item with a picture of him.
He loved it, so I continued to make top 10 list cards for the next few years and always included some printed pictures to make it more fun.
(I should add that both my roommate and her boyfriend, and Rich and I ended up getting married, so these cards have 100% success rate! (sample size=2))
13. Coupon book.
This is another Rich classic. The gist is that you list out favors that your spouse can cash in on. Rich always presents it in a very creative way and lists awesome things like, "you get to pick the show we watch tonight" or "a self-care night- I'll watch the kids" or "I'll make dinner tonight."
Things he knows I'll love. Just make sure your spouse really cashes in on them! Give them a deadline.
14. A box of their favorite things.
I made this for Rich when we were dating. Lots of little things he loves all in a box- all his favorite snacks, little trinkets to represent fun memories and things he likes (like a hot wheels version of the Oscar Meyer Weiner Mobile to represent the time we saw one and Rich freaked out 🙂 ), a shirt with a band he likes, and gift cards to stores and restaurants he liked.
This one is also not totally free, but could certainly be! Just include their favorite baked goods, homemade cards or crafts, and some of their favorite activities (written on cards but done together that day) in the mix – like playing frisbee or hiking or listening to music.
15. Encouragement calendar for a goal they want to accomplish.
One year I was training for a half marathon and had just barely had a baby so I was seriously doubting whether or not I would be able to pull it off.
For Mother's day that year, Rich actually made me a training calendar, blew it up and then put pictures of our kids with quote bubbles saying things like, "Oh my gosh Mom is awesome! She can do anything!" "Run Mommy run!" And things more clever than that. It hung in our kitchen for many months after the race as well because I didn't want to take it down. It made me happy every time I looked at it 🙂
I so wish I had a picture of the calendar.  This picture of me on my birthday with the calendar on the door behind me is as close as it gets.
16. Make a "Love Actually"-esque video.
You know the one I'm talking about? Where that guy holds up cards with sappy things on them and pulls them away as you read?
One Mother's Day Rich made me a video where he did that. I totally loved it. Super sweet (and it won't take you forever to make).
17. Video montage with pictures and sweet music behind it.
For Father's Day one year, I put a bunch of pictures and videos of Rich with the kids in Imovie with some sappy music behind it. Something about pictures/videos + sappy music just hits you in all the feels. In the best way.
18. Make a bunch of freezer meals.
This one is most effective if you are typically not the dinner-maker of the relationship. Otherwise, this would be just a gift to yourself 🙂
One year for Mother's Day, Rich made me SEVEN freezer meals!! He literally stayed up until 3:00am the night before assembling them all. It was SUCH AN APPRECIATED PRESENT!! I posted a picture on Facebook and then regretted that decision from all the jealous wives who commented. Meaning, husbands- this is an AWESOME gift! Check out your wife's Pinterest feed for recipes- that's what Rich did.

19. Make a book compilation of their writings or greatest accomplishments.
Rich used to be a writer for an online advice column for our university for a number of years. One year for his birthday, I copied and pasted every response he wrote (hundreds) and made them into a book. The book was 8 point font and 798 pages long! But he totally loved it and it's still fun to flip through.
Is your spouse great at soccer? Great! compile all soccer pictures of them and any other soccer info (game scores, team lists, stats, etc) and make a book!
Your spouse was in a band? Get all the pictures of their concerts and song lyrics and make a book.
Ok, those are the best we've got.
If this list seems overwhelming and crazy, it kind of does to me too (also I'm realizing for the umpteenth time that I certainly married up). Don't feel abnormal for not going crazy for each gift-giving opportunity for your spouse.
Most of those were given in our first few years of marriage when time and sappiness ran a plenty and all our obligations included staring into each other's eyes and feeding each other grapes . . .
It is CERTAINLY possible to have a strong, thriving marriage and not be big on gift-giving. My parents for example have a long and happy marriage and their gift-giving tradition involves asking the other one to order themself something nice on Amazon . . . so romantic.
So if DIY anniversary gifts aren't your thing, find your thing and do that instead. Or rather, find your spouse's thing and do THAT.
But if you're looking for something a little special this year, hopefully this list will get those brain gears a crankin'.
Let's add to the fun! What's the best DIY anniversary gift you've ever given your spouse?